Private Practice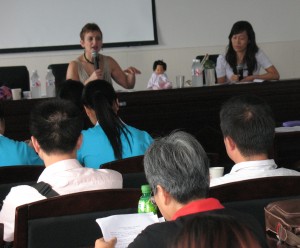 Helen has run her own private practice for nearly 30 years, and currently offers assessment and counselling for adults with various psychological and mental health issues, including:
Depression
Anxiety
Trauma
Physical and sexual abuse
Family and parenting concerns
Work related stress
Grief and loss
Chronic illness
Relationship and communication difficulties
Supervision
Helen provides supervision for individuals and groups of professionals working in the mental health and social welfare fields, assisting individuals to develop a strength-based approach, reflective capabilities, and to translate theoretical knowledge into practical application. She provides individual and group supervision for both clinical and organisational issues to Australian agencies including Berry Street and Anglicare Victoria.
Consultation and Training
Helen supports professionals in their work with children and families. She researches, designs and implements a range of training programs in areas such as early childhood, trauma and attachment, group facilitation and counselling.
In 2009 and 2010 Helen was contracted by the Department of Education and Early Childhood Development, Victoria to develop and conduct training about trauma, attachment and neurobiological development for Preschool Field Officers and Kindergarten Inclusion Support staff across Victoria. She developed and facilitated a 4-day training program with participation of over 80 staff.
Some of the agencies Helen works with include:
Bethany Community Support, Geelong
City of Boroondara
City of Casey
Free Kindergarten Victoria (FKA)
Gateways Support Services, Geelong
Mallee Family Care
Mildura Rural City Council
Victorian Preschool Field Officers Association
Wimmera Uniting Care
Helen is a Clinical Consultant with the Lighthouse Institute and is involved in training, consultancy and supervision. She has been part of the Lighthouse consultants involved in rolling out the Support Services trauma training connected to the Australian Royal Commission into Institutionalised Responses to Child Sexual Abuse.
Helen lectures and supervises students at the Master of Counselling and the Master of Art Therapy in the Faculty of Public Health, Latrobe University, Melbourne, Australia. 
 Conferences and Seminars
Helen is available to speak at conferences and seminars. Some recent events where she has presented include:
Presentation of the Gong Shi Project: How Culture, Trauma & Attachment Interact Childhood Trauma: Understanding the Basis of Change and Recovery, Melbourne 2014
Presentation of the Gong Shi Project: How Culture, Trauma & Attachment Interact  Journey to Recovery: The International Conference of Attachment & Trauma Informed Practice, Melbourne 2013
Keynote Speaker: Understanding Trauma, Attachment and its Impact on Children
Best Start Early Years Conference, Mildura 2012
Invited Speaker: Safe Base, Safe Place
Family Services and Early Years Forum, Colac Area Health 2011
Presentation of 'Tummies to Toddlers' Pilot Program
Strengths and Assets Summit, The University of Newcastle 2010
Presentation of 'Tummies to Toddlers' Pilot Program
Queen Elizabeth Centre's 6th International Conference, Melbourne 2010
Presentation of 'Building Stronger Connectedness within a Diverse Kindergarten Learning Community'
Centre for Equity and Innovation in Early Childhood International Conference, Melbourne University 2008
Other Recent Work
In addition to her private practice, in 2011 Helen worked part time as a Project Officer with the  KidsMatter Early Childhood initiative. This is an Australian national early childhood mental health promotion, prevention and early intervention initiative specifically developed for early childhood services, including preschools and long day care. Her role included the research, design and writing of resources such as:
Understanding Mental Health in Early Childhood
Keeping a Balance: Managing Feelings and Behaviours
When Times Get Tough: Managing Trauma and Ways To Recover
Creating a Sense of Community: Celebrating and Embracing Difference
Prior to her work at KidsMatter, Helen worked part time at the Melbourne Queen Elizabeth Centre (QEC) as a Clinical Educator Coordinator for several years. QEC offers specialist services to young children and families with complex needs and provides practical support, education and advice to help parents and carers develop skills to confidently manage the challenges of caring for young children.